Massereene trial: 'DNA found in very small amounts'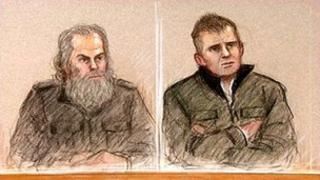 The Massereene murders trial has heard that DNA linking the two accused to the March 2009 gun attack was found in very small amounts.
Colin Duffy and Brian Shivers deny murdering Sappers Patrick Azimkar, 21, from London and Mark Quinsey, 23, from Birmingham, at the Army base in 2009.
The prosecution has said the DNA from both men was found in a getaway car.
The court was told the DNA from seven others, six men and a woman was also found in the car.
Dr Emma Watson, a forensic scientist, was challenged on her evidence.
She had previously said a full DNA profile matching Mr Duffy was found on the tip of a latex glove.
His barrister put it to her that she had no way of knowing how and when the DNA had come to be there.
But the forensic scientist said the strength of the profile had led her to conclude that Mr Duffy had worn the glove.
She also agreed with him that DNA linking Colin Duffy to a seat belt buckle came in very low amounts, but later said despite this, her results were reliable.
Patrick O'Connor QC, representing Mr Shivers, asked Dr Watson about the quantities of DNA found on matchsticks and a phone found in the getaway car which the proescution says links his client to the attack.
She said two samples were officially classified as "zero" quantity and one was measured as 0.01 nanograms (100 billionth of a gram).
But she told judge Mr Justice Anthony Hart, who is sitting without a jury, that analysis could still be carried out on such samples. Enhancement techniques were used on some of the data, she added.
Crown counsel Terence Mooney QC acknowledged the data was small.
"We are dealing with a very small amount of recovered DNA," he said, then asked Dr Watson: "Can reliable results come from those quantities of DNA?"
"Yes they can," she replied.
The two soldiers were shot dead as they collected pizzas outside the base in Antrim.
Mr Duffy, 44, from Lurgan and Magherafelt man Mr Shivers, 46, also deny six charges of attempted murder and one of possession of guns and explosives.
The trial continues.