Man denies 'gay fantasy' over ex-priest on abuse charges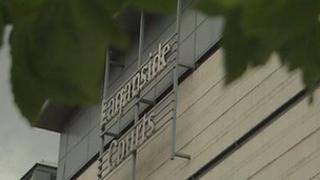 A man who claims he was sexually abused by a former priest has denied that he held a "gay fantasy" for the defendant.
Former Catholic priest James Martin Donaghy, 53, of Lady Wallace Drive, Lisburn, denies a total of 26 charges.
These include the alleged sexual abuse and indecent assault of three males between June 1983 and December 2000.
On Tuesday, James Doherty said claims that he had accused the ex-priest of abusing him because Mr Donaghy "had no interest" in him were incorrect.
On Monday, Mr Doherty had alleged that he was first attacked when he was 17 in November 1985 and he had stayed overnight in the parochial house at the Church of St Michael the Archangel in Finaghy.
He claimed a naked Mr Donaghy got into bed beside him and attacked him.
The witness said two of the other three assaults occurred in another parochial house where the accused had moved.
Mr Doherty said he ran away to England after the assaults, developed a drink problem and was jailed for theft from a bank where he worked.
He has told the court he wanted to be a priest until he was subjected to the abuse.
At the conclusion of the cross examination on Tuesday, defence lawyer Eugene Grant put it to Mr Doherty that his affections had been "unrequited," that he was "desparate" and that his evidence was a lie.
Mr Doherty however refuted each of the suggestions, telling the lawyer "not at all".
The trial continues.