Reasons given for Omagh bomb retrial for Seamus Daly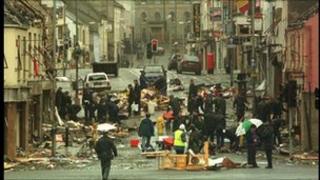 A judge who found a County Monaghan man liable for the Omagh bombing did not clarify what weight was put on his later conviction for Real IRA membership, the Court of Appeal has ruled.
Senior judges have set out their reasons for directing a retrial in the case of Seamus Daly, one of the men sued over the atrocity.
They also identified an error in the handling of evidence against him.
No-one has been criminally convicted for the August 1998 attack which claimed 29 lives, including the mother of unborn twins, and injured hundreds more.
Daly, 40, was one of four men found legally liable for the outrage in June 2009 following a landmark civil action taken by relatives of some victims.
Jailed Real IRA leader Michael McKevitt, fellow senior republican Liam Campbell, and Colm Murphy were also held responsible.
Mr Justice Morgan, now Northern Ireland's lord chief justice, ordered them to pay £1.6m in compensation.
In July, the Court of Appeal dismissed challenges to the outcome brought by McKevitt and Campbell, a County Louth man currently fighting extradition to Lithuania over arms smuggling allegations.
They are now preparing to take their case before the Supreme Court in London.
But judges did uphold the appeals of Murphy and Daly. At the time they ordered that Murphy, a Dundalk-based builder and publican, should face a retrial.
Daly is also to face fresh civil proceedings, despite his lawyers arguing it would be unfair to put him through another hearing.
Explaining the reasons for making such an order, Lord Justice Coghlin said on Tuesday it appeared indisputable that the case against him would not have succeeded without a statement from Denis O'Connor, who allegedly received a call on a phone owned by Daly on the day of the Omagh bomb.
"The learned trial judge misdirected himself in taking into account the consistency between statements made by Denis O'Connor on the afternoon of 23 February 1999 and in December 2001," he said.
"Had he appreciated his error it is not possible to say whether and to what extent that would have affected the weight he would have placed upon the afternoon statement of O'Connor."
It was acknowledged that Daly's conviction for Real IRA membership after the Omagh bombing was a factor that could have been taken into account.
But Lord Justice Coghlin said there was no clear indication whether this was done by the judge.
"In such circumstances, despite the earlier specific references, it is not possible to ascertain whether he took into account the conviction and, if so, what degree of weight he placed upon it."