More than 25% people have taken drugs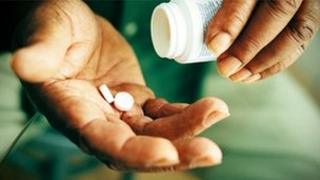 More than a quarter of people in Northern Ireland have taken illegal drugs, according to a survey published by the Department of Health.
A total of 27% of respondants, aged 15-64, admitted to having used illegal substances.
Cannabis was the most commonly used drug, with 24% of all adults reporting they had used it in the past.
Around one fifth of respondents said they had used sedatives, tranquilisers and anti-depressants.
A further 5% admitted using cannabis in the last year, while 3% reported using it in the last month.
After cannabis, the most commonly used illegal drugs were poppers and ecstasy (each 9%), cocaine powder (6%), amphetamines and magic mushrooms (each 6%), LSD (5%), and solvents (4%).
Around one in three males and one in five females reported lifetime use of any illegal drug, according to the Drug Prevalence Survey.
Nearly two fifths of young adults (15-34 years) compared with one fifth of older adults (35-64 years) reported using an illegal drug.
Twenty-four percent of females compared with 17% of males said they had used sedatives and tranquilisers, while 28% of females compared with 15% of males admitted using anti-depressants.