John Compton: Health review changes 'almost inevitable'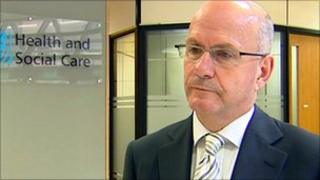 The largest ever review of health services in Northern Ireland will be presented to the minister next week.
The chief executive of the Health and Social Care Board, John Compton, is in charge of the inspection team.
Health unions have argued that the review has been carried out too quickly.
Likely changes could be the downgrading of the Daisy Hill Hospital in Newry and the shifting of more services from hospitals to GPs.
Health Minister Edwin Poots announced the review in the summer and is hoping to make significant savings across the sector.
Both Mr Compton and the health minister have said the current service is unsustainable.
Mr Compton failed to rule out possible closures and said that changes in the use of some health service buildings was "almost inevitable".
By cutting the funding going towards hospitals its is planned to free up money for more services in patients' homes and improving doctors' surgeries.
It is expected that the public may now have to travel to one of six regional centres for specialist treatment.
Pharmacy changes
After working for the last 12 weeks, Mr Compton will present his review to the health minister.
He told Radio Ulster that the health service can expect some significant changes.
"Everyone probably realises that we do need some changes in how our health services are operating into the future," he said.
"That's not a criticism of how they are operating today, this is about the future.
"I do think we have to look seriously at how we organise our hospitals, what way we provide our community care, how we engage with our GPs and all of this will be reflected in the report."
Mr Compton rejected complaints that the review was not conducted over a long enough period.
He said that he was "satisfied with the time frame" and there had been "extensive engagement" with patients and staff.
The number of pharmacies in Northern Ireland may also need to be reviewed, said Mr Compton.
"The issue is can people in rural areas access pharmacy services and I think they should put people in areas were there is significant deprivation and a lack of access to pharmacy.
"Are there issues about the high street? For example, Belfast where we have a large number of pharmacies, perhaps that needs to change?
"That is the issue. It's not about meaning there is no role for community pharmacy services in the future."