Minister's regret over delay in farm subsidy compliance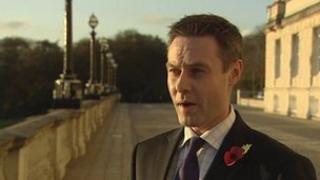 The agriculture minister has admitted her department spent too long arguing with the European Commission over farm subsidies rather than addressing the problems highlighted.
The delays have proved costly - taxpayers are liable to European fines of £80.6m for the years 2005 to 2009.
Michelle O'Neill made her comments in the assembly on Monday.
The department is now moving quickly to convince the European Commission it is compliant on farm subsidy controls.
The chairman of the assembly's agriculture committee Paul Frew said he feared the European penalties would continue to grow by £15m a year until the issues were finally ironed out.
The problems started in 2005 when Europe scrapped most of its agricultural support schemes and replaced them with a single farm payment which relied heavily on Department of Agriculture farm maps.
However, many of the maps proved out of date and European auditors began a series of inspection visits which found some farmers were claiming subsidies for land covered by laneways, livestock sheds and even bungalows.
The commission auditors also raised concerns about agricultural subsidies being claimed on areas of land covered by scrub.
"In 2006, they advised that our mapping system was not good enough, that our farmers were not telling us of changes to their fields; that our ground controls by inspectors were not sufficiently rigorous; and that our approach to sanctions and penalties was too lenient," Ms O'Neill said.
She said the department's response in the early years was understandably one of challenge, particularly because at the outset there was little or no evidence of other countries facing a similar problem.
"When the question is put as to whether the department was wrong to challenge for so long rather than to seek immediately to comply with the commission's findings at an earlier stage, it is clear with the benefit of hindsight that it should have sought to comply sooner," the minister added.
Controls
A major remapping project has been undertaken by the department and the Land and Property Service involving 750,000 fields across Northern Ireland.
The assembly was told that the first of the new maps will be issued to farmers within the next few days and that after an initial trial involving 200 to 300 farms, the remaining maps will be issued from January to March.
The department is now moving as quickly as it can to convince the European Commission it is compliant on farm subsidy controls.
It is also spending £150,000 lodging a European court case challenging the approach used by the commission in applying the financial penalties.
The department said that if successful, it would expect a substantial reduction in its financial liabilities.