OFMDFM did not get best value for army base, report says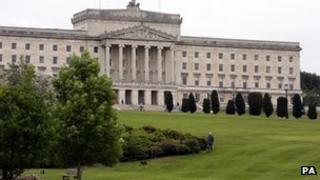 The office of the first and deputy first minister (OFMDFM) did not get the best value from the sale of a former army barracks on Belfast's Malone Road, according to the audit office.
By 2004 the Ministry of Defence had given six former security sites to the government.
This was free of charge for use as economic and social regeneration projects.
The Malone Road site was bought for £3.8m, less than the initial valuation.
The developer who purchased it sold the site on the same day it was bought.
At the time of the sale, OFMDFM was under the control of direct rule ministers.
The office of the first and deputy first minister and the Department of Finance disagree that they could have got more for the site.
The proceeds of the Malone Road site and another base in Magherafelt were to be used specifically towards peace projects but the audit office said it was unclear how the money was spent.
In relation to other former military sites gifted to the executive, the audit office said the pace of regeneration had been slow.
The report also said the cost of decontaminating the Maze Prison site - mostly from the harmful effects of lead shot - is expected to exceed £8.5m.
Sinn Fein MP and MLA Paul Maskey has welcomed the audit office report.
He said there had been some successful initiatives associated with the disposal of the military bases, but agreed that in general the pace of regeneration had been slow.
He said one of the report's recommendations was that with "any future transfers or sales, checks should be carried out well in advance, to ensure that all parties are aware of the potential costs of such projects to protect the executive against any undue financial burden".
"The public accounts committee has already decided to hold an evidence session on the report in the new year and I have many questions to put to departmental officials," he added.