PSNI investigate reports of 10 rapes a week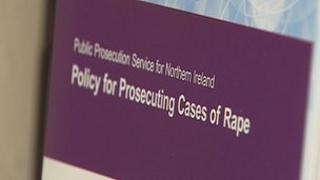 Police in Northern Ireland have received, on average, 10 reports of rape each week over the last year.
The figure emerged following three rapes during a 24-hour period over the weekend. The PSNI are investigating the attacks in Belfast, Londonderry and Portadown.
It brings the total number of reported rapes to 525 over the last 12 months.
A 16-year-old was raped in Banbridge on Tuesday, meaning four rapes were reported in the last week.
All of the attacks were carried out by people unknown to the victim.
Police are also investigating reports of another three serious sexual assaults over the weekend. These are thought to be of a domestic nature.
A woman in her 40s was raped by two men in the Whiterock Road area of west Belfast at about 01:00 GMT on Sunday.
Both men are described as being in their 30s of heavy build and wearing jeans.
A young woman was attacked in Portadown in the early hours of Saturday morning.
And at around the same time in Londonderry, a teenage girl was raped in the Temple Grove area of the city.
The police have appealed for information relating to any of the attacks.