UVF supergrass witness defends 'deal of the century'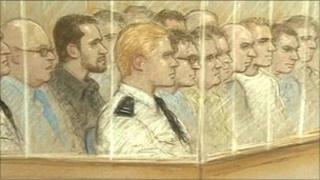 A witness in the UVF supergrass trial has had to deny that he and his brother got the "deal of the century" for giving evidence against their former paramilitary colleagues.
Self-confessed UVF member David Ian Stewart faced the accusation at Belfast Crown Court on Monday.
Stewart and his brother Robert received three-year sentences for involvement in the murder of UDA leader Tommy English.
They are testifying against 14 men in return for their reduced sentences.
Defence QC Frank O'Donoghue cross-examined Mr Stewart and suggested the brothers had got off lightly despite admitting being involved in the murder on Halloween night in 2000.
He said the brothers had got the "deal of the century" because "you have admitted to such serious criminality that if it's right, you should never have walked out the door but you have managed to get yourselves into a position where you are out".
However, Mr Stewart told the court: "How was it? There was no deal. We came back to do the right thing - that's still what we are trying to do."
Mr Stewart revealed that the police are paying him £65 per week but told the lawyer "sure that's the same as what you get on benefits".
Mr O'Donoghue, who has been cross-examining Stewart on behalf of Haddock for over a week, suggestion to him in conclusion: "I'm putting it to you that you and your brother have decided for your own motives, to go to the police and to invent allegations about Mr Haddock which are completely untrue."
Stewart asked rhetorically: "Do you honestly think that I would hand myself into a police station facing a life sentence just to make things up about your client? Everything's completely true. I'm telling the truth about Mr Haddock."
Later, John Bond's defence QC Gregory Berry began his cross examination of the supergrass who has claimed that in late 1999 and into 2000, Mr Bond drove him to UVF meetings in his Ford car and also that he saw Mr Bond in the same car at various band parades.
The lawyer told him however that those claims were "cosdwallop" because prison records proved that Mr Bond was in custody at the time from October 1998 until October 2000.
Stewart said that while he "must have got the dates wrong" he maintained that Bond "definitely" drove him to UVF meetings at the band hall on the Shore Road.
The trial continues.