Massereene trial: 'Colin Duffy DNA on glove tip'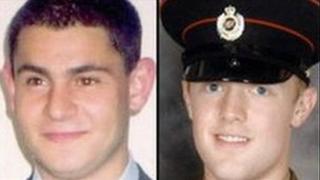 A forensic scientist has told the Massereene murders trial that a full DNA profile was found on the tip of latex glove found in the getaway car.
Colin Duffy and Brian Shivers deny murdering Sappers Patrick Azimkar, 21, from London and Mark Quinsey, 23, from Birmingham, at the Army base in 2009.
Dr Emma Watson told the court the glove tip was tested against Mr Duffy's DNA.
She said the chance of it having come from anyone else was one in one billion.
Dr Watson was asked whether she thought the DNA was a direct transfer from Mr Duffy.
She said she concluded that if he hadn't been wearing the glove, DNA from other people would have been present.
She added that samples from a seatbelt buckle in the car gave a partial DNA sample and this also matched Mr Duffy.
The court heard that a profile could be considered complete when 20 DNA components were discovered.
"Sixteen components (from the seatbelt buckle) matched corresponding DNA components of Colin Duffy's DNA profile," Dr Watson said.
She said other DNA material was found on the belt buckle and as she did not have the technology to perform a statistical analysis on this mixed sample she sent it to an American specialist, Dr Mark Perlin.
Last week the trial heard Dr Perlin concluded that according to his study the DNA sample found on the belt buckle was 5.91 trillion times more likely to be Mr Duffy's than someone else's.
Matchsticks
Dr Watson also outlined her findings from analysis of DNA obtained from two matchsticks found inside the car.
She said a partial profile had been detected and that it matched Mr Shivers' DNA.
"The initial partial profile has 15 confirmed components which matched corresponding DNA components of Mr Shiver's reference profile," she said.
The scientist said other unconfirmed DNA components on the matchsticks also matched Shivers' profile.
Dr Watson told judge Mr Justice Anthony Hart, who is sitting without a jury, that a process was then carried out to enhance the partial DNA profile.
She explained: "The enhanced result, that complete DNA profile, matched that of Mr Shivers and therefore I concluded that DNA recovered from the matchsticks could have originated from him."
She accepted that such enhanced results had to be assessed with some degree of added caution.
The two soldiers were shot dead while they collected pizzas outside the Antrim base. A number of other people were injured.
The alleged getaway car was found partially burned in Randalstown after the murders.
Mr Duffy, 44, from Lurgan and Magherafelt man Mr Shivers, 46, also deny six charges of attempted murder and one of possession of guns and explosives.
The trial continues.