Report warns older people may not be able to meet their future care costs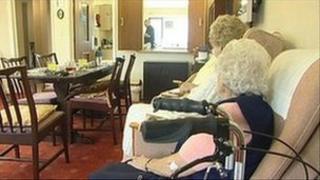 A new report has said older people may face substantial costs for their care in the future that they will not be able to meet.
The study commissioned by the Independent Health and Care Providers (IHCP) group calls for changes to the current system.
It found many people assume residential and nursing home accommodation is provided free but this is not the case.
The report also points to a rapidly ageing population in NI.
"There's a general assumption that social care is free at the point of delivery whereas it is not like health care - it is not necessarily free," said Hugh Mills, chief executive of IHCP.
"Currently domiciliary care is free, however if you go into residential or nursing homes you are contributing towards your costs.
"The biggest worry for people is the fact that in the current position those costs could be open-ended. Nobody knows what they will be.
"Dementia sufferers at the moment could be suffering from dementia in excess of ten years and that's a significant cost for people to have to burden."
Anne O'Reilly, chief executive of Age NI said a fundamental reform of social care was needed.
"The resources that we have are being stretched across acute care, primary care and community and the resources need to be changed so that we invest in people staying at home," she said.
"We think with Invest to Save, which means if we put more resources into people living at home we can spread the resources around to meet the needs, because we have a growing ageing population and the demands from the system are such that we will run out of money unless things are radically changed."