Christmas food donations stolen from St Malachy's church in Hillsborough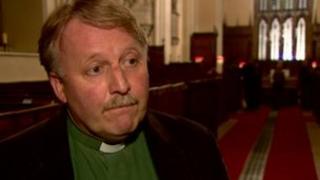 Donations of food collected for people in need this Christmas have been stolen from a County Down church.
It happened during a sermon about food poverty at St Malachy's in Hillsborough on Sunday.
It was to go to the East Belfast Mission which distributes Christmas hampers to deprived families.
The Reverend Mike Dornan said he was shocked to be told that six large boxes of food had been taken from the entrance hall.
"I was literally stunned," he said.
"I'm still struggling to come to terms with it because I find it so difficult to understand because this isn't a victimless crime.
"What these people have done is remove food literally from the hands of hungry people and potentially hungry children and that I just find impossible to understand."
Mark Houston is the director of the East Belfast Mission.
"These goods were destined for people in desperate need in the east Belfast community," he said.
"We have over 300 people currently in need of hampers for Christmas. Every single item was going to people in this community.
"It has a large impact. Some of them have had hampers for two or three years. They come to rely on it.
"They are very thankful and appreciative of what they get and obviously now we need to try and find other ways of meeting their needs, but we don't know how we are going to do that. We'll do our best."