Lisburn pensioners relive burglary ordeal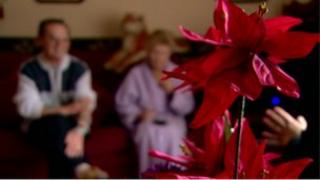 An elderly couple have described how they tried to fight off a gang of robbers who ransacked their Lisburn home.
The 67-year-old woman and her 71-year-old husband were preparing to go to bed on Friday night, when they noticed the security lights on outside their home.
When the woman went to investigate she was threatened by a man.
"This boy just came out and shouted at me to 'shut up' and pushed me back into the house," she said.
Four other men, one armed with a crowbar, also emerged and forced their way into the property.
"One of the boys was wrestling with my husband, and I got a knife out of the drawer and then somebody came behind me and grabbed me and got the knife off me," she added.
"He cut my hand with the end of the knife.
"I took an asthma attack and they wouldn't give me my sprays."
'Get out'
Her husband, who is recovering from cancer surgery, said he was badly shaken by the attack.
"I have had cancer three times, and three heart attacks. I wouldn't have been fit. So I thought let them take whatever they want," he said.
"I told them 'there is no money in this house if you want anything take it and get out'. I'd say they were looking money."
The house was ransacked, but the robbers left with nothing.
Police have appealed for information.