Wildlife Trust's appeal to save barn owl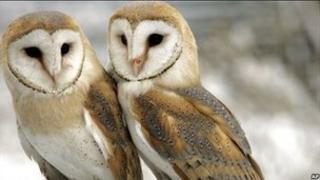 A Northern Ireland charity is hoping to raise £10,000 to save the native barn owl as numbers dwindle to a dangerously low level.
There are now as few as 20 to 40 breeding pairs of barn owls across Northern Ireland.
The Ulster Wildlife Trust said the owls' habitats were disappearing as trees and old buildings were destroyed.
Belfast Lord Mayor Niall O Donnghaile helped launch the campaign on Monday.
"By taking action now, we can make a big difference," he said.
"I would urge everybody to support the Ulster Wildlife Trust's 2012 Barn Owl campaign to ensure that one of our finest local wildlife spectacles can be enjoyed for generations to come."
Over the next year, the UWT plans to install barn owl boxes and train and support volunteers to carry out surveys across Northern Ireland.
To fund the programme, the trust needs to raise £10,000.
Barn owls are often called "the farmer's friend" as they can eat up to four small rodents every day - keeping farm rodent populations down for free.
The trust is asking for donations to help fund the barn owl project.