Northern Ireland economic growth to stay weak - Northern Bank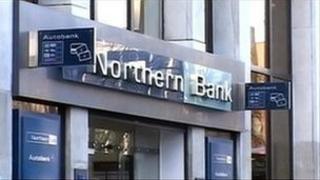 Northern Ireland's economic growth is set to stay weak for most of 2012, according to the Northern Bank.
The bank's quarterly sectoral forecast report, published on Monday, estimates growth of only 1% for 2012 and a forecast of 2.3% for 2013.
The figure shows that NI's economy continues to lag slightly behind the rest of the UK.
Its chief economist Angela McGowan said the euro crisis could increase the risk of slipping back into recession.
She said the bank currently estimates the chances at 20% although "it is necessary that the euro crisis comes back from the brink".
Ms McGowan also highlighted the local economy's reliance upon its exporting businesses.
"Unfortunately this small region holds no influence over global economic events," she said.
"Ongoing efforts to rebalance our economy by increasing enterprise, investment and exports levels should work to strengthen our economic outlook."
The bank's latest report forecasts that the highest growth levels in 2012 will come predominantly from transport and communications, business services and manufacturing.
'Uncertainty in Europe'
Although manufacturing is given as one of the sectors for growth, Ms McGowan said the impact of a slowdown in the European Union would have a knock-on effect as approximately 49% of Northern Ireland's external sales go to this region.
"Clearly the risk for local manufacturers has risen because of uncertainty in Europe," she added.
The report further reveals a tough year for hotel and catering and a continuation of downward pressure on the public administration, education and health sectors.
Although the construction industry continues to be strained, the bank's report does offer some hope.
"The picture for construction is undoubtedly challenging but given the adjustments which have already occurred in this sector's scale; the losses going forward should be much more modest," Ms McGowan said.