Tyrone 'character' Raymond Browne-Lecky's dying wish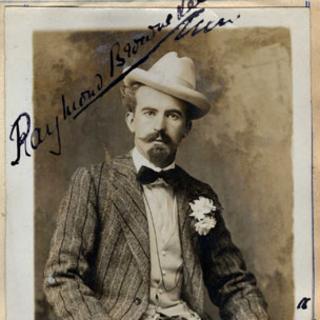 When a flamboyant County Tyrone man died in 1961, it was his dying wish that two charities would benefit from revenues from part of his estate.
Fifty years later, the payments to those charities have stopped.
Raymond Saville Conolly de Montmorency Lecky-Browne-Lecky was one of Northern Ireland's more colourful characters.
He was part of the landed gentry and lived in Ecclesville - a big house in Fintona, County Tyrone.
Family researcher Alex Watson said he was an eccentric but very generous individual.
"Raymond was always dressed in mauve and lavender colours. The local people sometimes made a bit of fun of him but I think Raymond took it in good spirits. He did a lot for the area. I think people at the time were very grateful for his charitable work."
In the Public Records Office, you can see Raymond's original old scrapbook and see just how much he did for charity.
It is full of newspaper cuttings of various fundraising events he organised and performed in.
Known as Tibby to his friends and family, he was an actor, a musician and a renowned female impersonator.
So it is perhaps no great surprise that these passions were high in his thoughts when he made out his will.
Aside from leaving many of his possessions to the church and his great house to the government in Northern Ireland - he wanted to two charities to benefit - two charities that supported the arts.
Both of the charities are based in London. The Actors' Charitable Trust started out as an orphanage caring for the illegitimate children of actresses. Today it cares for the children of actors, mostly in their own homes - children with special needs or with an actor parent who is seriously ill.
The Musicians' Benevolent Fund has been helping musicians during difficult times across the UK for 90 years.
Hugh Logan from Cunningham and Dickey Solicitors has been looking after the estate of Raymond Browne-Lecky for about 30 years. He said the two charities were entitled to money from two sources. Firstly the sale or vesting of properties owned by Raymond in Londonderry and, secondly, from ground rents he owned in the city.
"When a ground rent is created - when it is on the title of your property - you have a responsibility to pay the ground rent. All ground rents - again historically by law are payable half yearly on 1 May and 1 November in arrears."
There are thousands of ground rents all over Northern Ireland - some for as little as a few pounds a year, while others go into the hundreds.
The two charities were to benefit from a number of them - but one in particular was quite lucrative to them - and it was to be paid by Derry City Council. For a time, the charities did receive the money - but around 15 years ago it stopped - and no-one really knows why.
You can hear more about this story on BBC Newsline at 18:30 GMT on BBC One on Monday.