Michelle O'Neill in pledge to Maghera family over garden collapse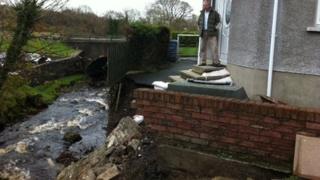 Agriculture Minister Michelle O'Neill has said she will do "everything in her power" to help a Maghera family whose back garden collapsed following two days of torrential rain last month.
The minister visited the Flanagan family home on the Glen Road, which backs on to a fast-flowing river, last Friday.
She said a video of the river at its most ferocious was "scary" and she was fearful that the rest of the house could "go down".
Ms O'Neill said she had taken Rivers Agency officials out to see the impact of what had happened and to try and find a solution.
"The water course at the back of the house is not designated, it is not looked after by the Rivers Agency, so the first course of action was to get them to look at getting it designated," she said.
"Then we can start a programme of work, a short-term solution to shore up the house because there is a danger of the bank being eroded and falling into the water course.
"We need to move in quickly, we need to secure the house to address the problem and then look at a long-term solution."
The Flanagan family said they appreciated all the help they have received but wanted the issue dealt with urgently.
The fear is now that their home of 18 years could be next as huge cracks are already appearing in the tarmac surrounding the house.
Since the initial collapse on 25 October, the river has again flooded twice. Kieran Flanagan said they are now worried about the very foundations of the house.
"If it's not fixed shortly or something is not done to preserve the wall or secure the foundations of the house it's going to be disastrous," he said.
"There was flooding last night and we're very concerned."
His wife Patricia, who was in the house on the afternoon the garden was washed away, said she is unable to sleep at night.
"We just spend all our time looking out the window and keeping an eye on the river. It's an awful worry. I won't rest until it's sorted out," she said.
"I'm very very nervous about it. I just want something sorted out as quickly as possible. I don't sleep at night," she said.
"Every wee creak causes us concern. I just want something done about it, if somebody could help us."