John O'Donoghue tells Swithwick Tribunal collusion claims 'shameful'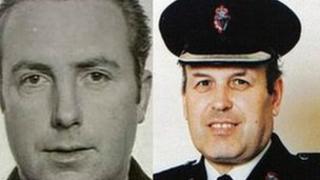 The Republic's former justice minister has described the DUP's Jeffrey Donaldson's allegation that a named Garda officer had passed information to the IRA as "shameful".
John O'Donoghue was giving evidence to the Smithwick tribunal, which is investigating the murders of two senior RUC officers in 1989.
He said it was unfair to identify an individual by name.
He implied Mr Donaldson may have been motivated by political advantage.
Mr O'Donoghue added that "the Finucane business was being discussed at the same time".
Mr Donaldson named retired Detective Sergeant Owen Corrigan as the person who had passed information to the IRA in the House of Commons in April 2000.
On the same day questions were raised in the Dail on the matter of alleged Garda collusion.
In a reply to a parliamentary question by Jim Higgins, who is now a Fine Gael MEP, Mr O'Donoghue said the Garda had investigated the matter and no tangible evidence had been uncovered to support the allegations.
On Friday the former justice minister said his information had been given to him by the Garda and he took it at face value as he had no reason not to.
Owen Corrigan denies all allegations against him.