John O'Dowd calls for exam donor to be named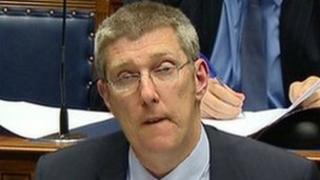 The education minister has called on the Catholic grammar schools running entrance tests this weekend to name the private donor paying for the exam.
P7 children are due to sit the test on Saturday for most catholic grammars.
John O'Dowd said he was concerned the test was being paid for by an anonymous donor.
Ronnie Hassard, from the Post-Primary Transfer Consortium (PPTC) of schools which use the GL assessment test, said he knew of no private donor.
The GL assessment exam is one of the tests replacing the 11-plus which was abolished in 2008 after over 60 years.
"We have a private donor funding tests for young people to access publicly funded - taxpayers funded - education," Mr O'Dowd said.
"More importantly we have a private funder barring young people accessing taxpayers publicly funded education and that in my opinion is even more important."
Paid
The Post Primary Transfer Consortium (PPTC) provides the GL assessment tests mainly for Catholic grammars, along with some integrated colleges and a few non-denominational schools.
Pupils are not charged for sitting the test.
Ronnie Hassard, the head-teacher at Ballymena Academy, which uses the GL assessment exam, said that the money for the tests came from individual grammar schools and was processed through the PPTC and paid to GL Assessment.
He said individual schools paid the money, and he did not know if they got it from elsewhere.
The Department of Education has said the grammar schools cannot draw on their normal budget to pay for the tests, but has confirmed that the schools are entitled to use the money raised from parental contributions.
The Association of Quality Education (AQE) organises the entrance exams for other non-denominational grammars.