Finucane and A5 dominate North South Ministerial Council talks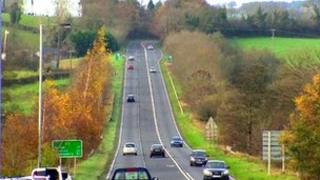 The North-South Ministerial Council is meeting in Armagh.
First Minister Peter Robinson and Deputy First Minister Martin McGuinness welcomed the Taoiseach, Enda Kenny, and his delegation on Friday morning.
Unionist ministers are thought to be angry over Mr Kenny's comments backing a full public enquiry into the murder of Belfast solicitor Pat Finucane.
Funding for the A5 road between Londonderry and Aughnacloy is another topic on the agenda.
The Irish government has reduced its contribution for the project from £400m to £42m.
But on his way into the meeting, the deputy first minister said that the planned new road was "far from dead" and still a work in progress.
Finucane enquiry
Mr Kenny said on Thursday night that he knew his government's "deferral of our funding contribution" to the project had "come as a big disappointment to many in Northern Ireland".
"But I want to stress - it is deferral, not abandonment," he added.
"My government remains fully committed to delivery of this important project, even if it must now be on a slower timeline.
The taoiseach met with Mr Finucane's widow, Geraldine in Belfast on Thursday evening and said he would lobby US politicians and European leaders in an attempt to secure the family the full public enquiry they want.
Mr Finucane, a high profile lawyer during the Troubles, was shot dead by Ulster Defence Association gunmen at his north Belfast home in 1989.
The British government has said it accepts there was collusion in the case but refused a full public inquiry on the grounds that a large amount of information was already available and a review was a quicker way of establishing the truth.