Geraldine Finucane says family pleased by Enda Kenny pledge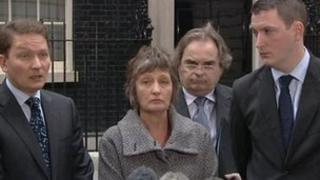 The widow of murdered Belfast solicitor Pat Finucane has said she believes pressure from the taoiseach could help her campaign for a full public inquiry.
Geraldine Finucane said she believed Enda Kenny's pledge to lobby US politicians could make David Cameron change his mind on the issue.
The prime minister has refused a full inquiry and instead ordered a review of the case papers by a leading QC.
Mr Kenny said this fell short of what was previously pledged.
Mr Finucane, a high profile lawyer during the Troubles, was shot dead by Ulster Defence Association gunmen at his north Belfast home in 1989.
The British government has said it accepts there was collusion in the case but refused a full public inquiry on the grounds that a large amount of information was already available and a review was a quicker way of establishing the truth.
Last month, Mrs Finucane walked out of Downing Street after being told that the government was only offering the review, to be conducted by Sir Desmond DeSilva.
Mrs Finucane said on Friday that the Baha Mousa inquiry showed that a probe need not be lengthy or overly expensive and that she had no confidence Sir Desmond's review would have sufficient access to confidential documents.
She said she understood the Chilcott Inquiry into the Iraq War had already encountered difficulty seeing classified papers.
Mrs Finucane met Mr Kenny on Thursday night at a civic ceremony in Belfast during which she was named "Person of the Year".
She said afterwards that Mr Kenny's pledge to lobby US politicians and European leaders meant a lot to her and her family.
She said that they had an excellent relationship with Mr Kenny since he had introduced an all-party motion calling for an independent inquiry in the Irish parliament in 2006.