A5 on the agenda at North South Ministerial Council talks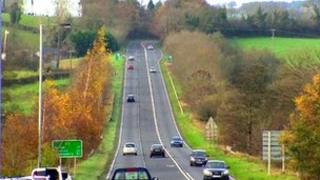 The Northern Ireland first and deputy first ministers will host a gathering of the North South Ministerial Council in Armagh on Friday.
The Irish Prime Minister Enda Kenny will attend the plenary meeting of the council.
Funding for the A5 road between Londonderry and Aughnacloy will be one of the key topics of discussion.
The Irish government has reduced its funding for the project from £400m to £42m.
This is now to be provided between 2015 and 2016.
Mr Kenny said on Thursday night that he knew his government's "deferral of our funding contribution" to the project had "come as a big disappointment to many in Northern Ireland".
"But I want to stress - it is deferral, not abandonment," he added.
"My government remains fully committed to delivery of this important project, even if it must now be on a slower timeline.
"I made this clear to the first minister and deputy first minister when I met with them in Dublin last Friday, and we agreed that we would work together on a new funding and implementation plan, including at tomorrow's North South Ministerial Council meeting.
"These difficult decisions are a necessary part of the correction of our public finances."