Enda Kenny to make political push for Finucane inquiry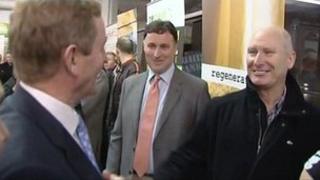 The Irish Prime Minister, Enda Kenny, has said he will tell the UK government, European leaders and American politicians there is a need for a public inquiry into the murder of Belfast solicitor Pat Finucane.
Mr Kenny made his comments following a meeting with Mr Finucane's widow Geraldine in Belfast.
Last month, the Finucanes cut short a meeting with David Cameron.
It was after the prime minister refused to order an inquiry into the killing.
Mr Kenny said the Finucane family had specifically requested that he take an interest in raising the matter with American political personalities, and that he intended to do so.
"I repeated to Geraldine and her family that I would raise it again directly on every occasion that I have the opportunity with the British prime minister, and in due course with other European leaders when the current crisis facing the Eurozone has been dealt with," he added.
Last month, Northern Ireland Secretary of State Owen Paterson appointed Sir Desmond de Silva QC to review alleged collusion in the loyalist murder of Mr Finucane using all relevant government papers.
The Finucane family said they would not take part in the review as they wanted a full public inquiry.
In a statement after his meeting with the Finucanes in London last month, David Cameron said he had expressed his profound sympathy for the family and that it was clear from previous inquiries "that state collusion had taken place in Mr Finucane's murder and he accepted these conclusions".
Mr Cameron said he had apologised to the family on behalf of the government.
Mr Finucane was killed by gunmen from the Ulster Defence Association in his north Belfast home in 1989.
Mr Kenny is visiting Belfast on Thursday in his first trip to the city since assuming office.
His first engagement was a courtesy call on First Minister Peter Robinson and Deputy First Minister Martin McGuinness at Stormont Castle.
He also visited two community projects on the Newtownards Road and the Short Strand in east Belfast.
He later attended the Aisling awards, which champion Belfast as a changing city, in the Europa Hotel.
Mr Kenny presented Mrs Finucane with an award at the event.
Before that engagement, he attended the East Belfast Mission on the lower Newtownards Road.
There he met a number of senior loyalists including Progressive Unionist Party leader Billy Hutchinson as well as church and community leaders.
He also met the Lord Mayor of Belfast, Niall O Donnghaile, and community representatives in the Short Strand area.
The taoiseach also has a series of engagements planned for Friday including a meeting with Belfast City Council members, before he attends the plenary meeting of the North South Ministerial Council in Armagh.