Massereene trial: DNA analysis system 'not used in UK'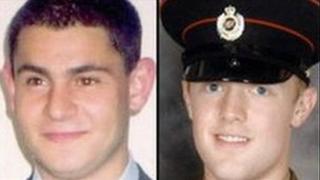 Defence lawyers have questioned the computer-based method used by a US DNA expert in the investigation into the murder of two soldiers in March 2009.
Colin Duffy and Brian Shivers deny murdering Sappers Patrick Azimkar, 21, from London and Mark Quinsey, 23, from Birmingham, at Massereene Army base.
Dr Mark Perlin was giving evidence for a second day on Thursday.
The trial heard that the computer analysis system he uses has never been used in a UK Court.
On Wednesday, Dr Perlin, the leading DNA forensic witness for the Crown, said he had compared DNA data taken from items in the getaway car used in the attack with the DNA from the accused and found that samples on a seat belt buckle were almost six trillion times more likely to have come from Mr Duffy than any other person.
He said similar tests run on samples from a mobile phone showed that they were more than six billion times more likely to have come from Mr Shivers than another person.
On Thursday, defence lawyers questioned Dr Perlin's computer based statistical analysis.
Barry McDonald QC for Mr Duffy said it was different from the threshold method normally used in courts in Northern Ireland which he said "was designed to stop innocent people from going to jail".
He said if allowed this would be the first time this type of evidence was admissible in a court in the UK.
Dr Perlin, who is a major shareholder in the company which designed the software used to analyse DNA, denied having a financial interest.
But the barrister put it to him that he was in court for two reasons, as an expert witness and a businessman.
The two soldiers were shot dead while they collected pizzas outside the Antrim base. A number of other people were injured.
Mr Duffy, 43, from Lurgan and Magherafelt man Mr Shivers, 46, also deny six charges of attempted murder and one of possession of guns and explosives.
The trial continues.