Dublin fire risk flats developer Tom McFeely jailed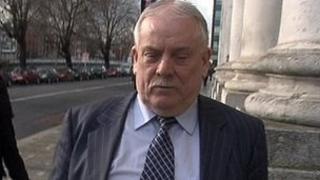 A County Londonderry developer behind a Dublin apartment block deemed a fire hazard, has been jailed for three months.
Dublin's High Court also ordered Tom McFeely to pay a 1m euro-fine by next March.
The court ruled that McFeely had failed to comply with an order to remedy fire safety risks at the Priory Hall apartment complex in Donaghmede.
McFeely is a former IRA hunger-striker originally from Dungiven.
He went on to become a multi-millionaire property developer and director of Coalport Developments.
The apartment complex was evacuated after Dublin City Council identified the fire risks.
More than 240 residents were moved out of their homes in October and put up in hotel rooms.