NI bowel cancer screening programme to be extended by 2015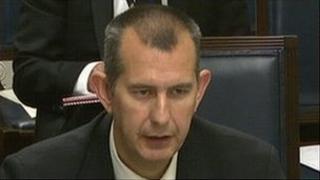 The NI bowel cancer screening programme is to be extended to people aged 74 by 2015.
The plan to increase the service is included in the executive's programme for government.
Currently the screening programme only targets those people aged between 60 and 69.
While there is no additional money for the service, it will benefit from a redirection of funding towards public health.
BBC NI Health Correspondent Marie-Louise Connolly said the extension of the screening programme was one of a range of measures which placed greater emphasis on public health and social care services.
"Diagnostic procedures will be improved in the fields of cardiology and thrombolysis for stroke patients," she said.
"Despite only three of the five health trusts currently being able to fund bowel cancer screening to those aged between 60 and 69 - the health minister Edwin Poots says in the next four years he's extending it to 74 year olds."
She said more would also be spent tackiling obesity.
"By 2015, £7.2m will be invested. That initiative should reduce the number of stroke, cardiac and diabetes patients which will save the health service money in the long run."