What the papers say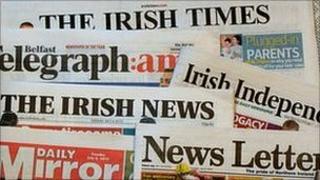 Journalist Mike Philpott takes a look at what is making the headlines in Thursday's newspapers.
The Belfast Telegraph previews the contents of the executive's programme for government.
After late-night negotiations, it says, politicians agreed on measures including a free nursery-school place for every child, a reduction in the number of councils from 26 to 11, and double-glazing for all Housing Executive homes.
The paper says a separate document will commit the executive to attracting hundreds of millions of pounds in foreign investment.
The News Letter leads with the DNA evidence presented at the trial of two men accused of murdering two soldiers at Massereene Barracks, while the Irish News leads with another court story - this time the trial of the former priest Jim Donaghy.
A serving priest told Belfast Crown Court that he was sexually abused by Mr Donaghy while training for the priesthood.
The Daily Mirror claims that a team of elite bodyguards are being trained in Northern Ireland in preparation for security duties at next year's London Olympics.
In Dublin, the front pages are dominated by pictures of protesting students. Around 20,000 took to the streets to protest against government plans to raise fees and cut grants in next month's budget.
But while the photographs are the most striking feature on the front pages, the biggest headlines go to other topics. The Irish Times reports on a growing split between Germany and France over the European debt crisis. The paper says it threatens to disrupt the whole response to what is happening in the eurozone.
The Irish Independent leads instead with a claim that one third of Ireland's judges had connections to political parties before being appointed to the bench. The paper says the revelation will fuel demands for a change in the system for choosing judges, which currently involves the Cabinet drawing up a list of appointments.
It's all doom and gloom on the front pages in London. "Jobless generation", says the main headline in the Times, after the publication of the latest unemployment figures and the Bank of England's cut in its predictions for UK economic growth.
"New bank crisis? I can't even predict tomorrow" is the rather alarming headline in the Daily Telegraph. It's a warning by the bank's governor, Sir Mervyn King, that households, companies and banks face a period of extraordinary uncertainty.
It's not just the eurozone, says the Guardian, as the outlook for Britain worsens. "Pain but no gain" is how the Independent sees the government's economic policy.
Finally, the house with a unique selling point. Llanwenarth House near Abergavenny is where the Irish poet Cecil Frances Alexander stayed in 1848 - and the views from its windows prompted her to write the hymn 'All Things Bright and Beautiful'.
Sadly, heavenly views don't come cheap - the house is on the market for more than two million pounds.