Northern Ireland councils discuss countering rural crime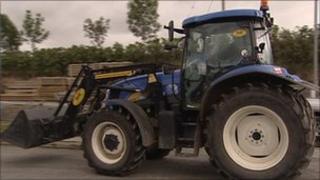 Five council areas have come together to tackle rural crime.
A major conference has taken place in Ballymena to discuss how to stop theft in the Larne, Ballymena, Ballymoney, Coleraine and Moyle areas.
It was supported by the police, district policing partnerships and the Ulster Farmers Union.
Superintendent Ryan Henderson said they are looking at issues relevant to all people living in rural communities in Northern Ireland.
"There are five main types of crime," he said.
"Firstly, there's animal theft, then there's lead theft and metals, the third is looking at machinery, the fourth's looking at diesel and oil and the other is looking at rural premises that have been broken into to take metals such as copper.
"So whilst the problem in terms of numbers may not be huge the value may be really significant and we know that when an item of machinery say goes from a farm, it can be the difference between that farm surviving or not."