Father Patrick McCafferty claims he was abused by priest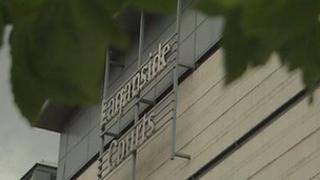 A priest who described himself as having been "outspoken" on the Catholic church's handling of abuse has claimed he was abused by a fellow priest.
Father Patrick McCafferty was giving evidence in the Belfast Crown Court trial of former priest James Martin Donaghy.
Mr Donaghy, 53, of Lady Wallace Drive, Lisburn denies a total of 26 charges.
These include the alleged abuse of three males between 1983 and 2000.
Fr McCafferty claimed that after years of abuse which started when he was a trainee priest in Wexford, he decided to confront Mr Donaghy, who agreed to meet him in the presbytery of St Comgall's Church where he was parish priest.
In the parochial house, Mr Donaghy allegedly confessed that he "always knew this day would come".
Fr McCafferty further claimed that Mr Donaghy told him he should have been the one who should have gone to him looking for forgiveness.
He said he became increasingly ill, eventually receiving treatment in America between April and September 2003.
That same year he said he also wrote and complained to the then Bishop of Down and Connor Bishop Patrick Walsh about the alleged abuse, informing him that he should already be aware of it.
In December 2009, following a two-hour telephone call with police who contacted him, he made his statement.
It is expected that Fr McCafferty will be cross-examined by defence lawyer Eugene Grant QC on Thursday.