Not seeing the light at Downhill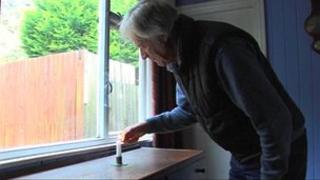 Two years ago, he successfully campaigned to have electricity installed along his road.
But while his neighbours are enjoying their kettles, lights, washing machines and fridges, 77-year-old John McCarter is still waiting to be hooked up.
The home that he's lived in since 1983 on the Seacoast Road at Downhill, close to Coleraine, is still being heated by two open coal fires, with candles providing his only light.
John lives in an idyllic setting, with his home nestled under the cliffs looking out to sea, but his living conditions are far from perfect: "During the summer, brilliant. Except for the fact you haven't got a thing like a fridge, which I can live with."
"However, when the winter comes and the temperature drops down to minus four degrees and you get out of bed in the morning, and even before you get out, you can see your breath hanging on the air - it's far from pleasant," he said.
"The cooking isn't a problem, because I've got a gas cooker and that satisfies that end, but lighting is one candle and one tealight.
"The candle provides the general lighting, the tealight lights up the face of the clock to let me see as the minutes tick away.
"I have two open fires, one in the sitting room and one in the living room.
"They're adequate provided they are burning, but the problem is you can't stay up all night to keep them alight so I usually stoke them up about 11.30pm before I go to bed, but by 3am, in the morning they're out and then the temperature just plummets.
"By the time you are thinking of getting out of bed at 8am, the temperature inside is the same as outside."
'Very hard'
Sidney Cooke is one of John's neighbours and says he is indebted to John for transforming his own living conditions.
"Prior to the electricity, we came in and had to come with a torch or a candle and light your gas, if you had gas, light your candles," he said.
"Mr McCarter helped me to put my electricity in and we feel really bad that we are getting electricity and the man that fought for it - 77 years old - still hasn't got it."
John's landlord, Coleraine solicitor Fergus McIntosh, will appear in court later this month.
He has failed to comply with a notice of unfitness on the property, served by Coleraine Borough Council in February of this year.
In a statement to the BBC, Mr McIntosh said: "There are no legal relations (referring to the lack of a tenancy agreement between the two) which exist between the occupant, Mr McCarter, and myself and for the record, there has been no rent paid by way of housing benefit on this property to myself for nearly two years.
"Now, until there is a framework of legal relations, the issues which cause the occupant Mr McCarter concern cannot really go forward.
"He has been invited to discuss a way forward. The door is always open to him.
"I spoke both to local MLAs and local councillors and I have advised them of that position, so it's up to Mr McCarter to initiate meaningful discussions and we can then move matters on.
"It's very unfortunate that there are suggestions he has been denied his home. That's not the case and he has not been in any way pressurised to leave the house."
'Unfit'
Meanwhile, as John faces his 29th Christmas without electricity, Age Concern representative, Pat Lee, said that she wants Coleraine Borough Council to step in.
"One night, we were talking on the phone and Mr McCarter said to me that he would have to go out to the car to switch on the light in the car to be able to read something. He's 77 years of age," she said.
"Surely a citizen in Northern Ireland in the 21st century does need help to deal with this situation and that's what we are asking the council to do."
Last week, Coleraine councillors did discuss the possibility of installing electricity into the property - estimated to be around £10,000 - and getting it back from the landlord.
In a statement to the BBC, the council said: "Environmental health services at Coleraine Borough Council has deemed the property at 800 Seacoast Road 'to be unfit for human habitation'.
"This was following an investigation that revealed a number of issues relating to the house.
"A notice of unfitness was served by the council on 22 February 2011, requiring the dwelling to be made fit for human habitation.
"The owner of the dwelling failed to comply with the terms of the notice so council instigated legal proceedings for non compliance.
"These proceedings are ongoing and are now in the hands of the court service.
"Coleraine Borough Council continues to discuss this matter with the Housing Executive and the Health and Social Services to ensure that the elderly tenant does not face another arduous winter.
"Council will continue to urge the owner of 800 Seacoast Road to carry out the necessary works to ensure that this property is fit for habitation, and that the tenant does not spend another winter without adequate artificial light and heat."
Bob Cratchit
However, David McClarty, who is an MLA in the area and also sits as an independent representative on Coleraine Borough Council, said the local authority could do something to help Mr McCarter.
"Council has a legal authority to step in and install the electricity in Mr McCarter's property, all be it a discretionary power, but we have had a number of years now where this gentleman has had no electricity at all," he said.
"Being in this house is like going back to Dickens' time and the first thing that came to mind was Bob Cratchit sitting at a desk with mittens on.
"This is 2011. If council has the obligation and authority to step in and help this man then we should be doing it."
When I visited, Mr McCarter made me a nice cup of tea with some evaporated milk - there's no option to keep fresh milk here! And he told me he sometimes goes to bed with his body warmer on.
When I asked him why he didn't consider moving, he replied: "This is my home and a home is a home and I came here. I grew to love the place and if I hadn't loved the place I would have had the alternative to have got up and left and I have no intention of leaving."