MLAs hear claims that 1,000 NI shops could close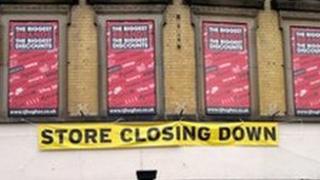 Northern Ireland has the highest shop vacancy rate in the UK, according to the NI Independent Retail Trade Association (NIIRTA).
NIIRTA chief executive Glyn Roberts also told the assembly's finance committee that shop closures in 2010/11 could be double the 2009 figure of 600.
The comments came during a discussion on the proposed large retail levy and small business rates relief.
The measure is aimed at giving rate relief to smaller businesses.
The plan is to introduce a 20% levy on retail properties with a property valuation of over £500,000 for a period of three years, starting from 1 April 2012.
Speaking to the finance committee on behalf of Pubs of Ulster, Colin Neill said the pub industry employs 35,000 people and is "key to our culture".
He argued that "boozers" were equally justified to benefit from rates relief as many were small businesses which were seen as the "cornerstone of the tourist industry," and often "the heart of the community".
Mr Neill said 120 pubs were currently facing closure, another 200 were for sale, 34% had paid off staff and 60% had reduced staff hours.
Squeezed
David Hunter of Larne Traders Forum also gave a briefing at the committee. He said 82% of Northern Ireland retailers employ below 10 people.
He said these smaller business were suffering from reduced sales and increases in purchases and overheads which meant the "triangle for profit is being squeezed at every corner".
Karine McCuckin, European officer of the NI Local Government Association (NILGA), said her organisation felt there was a need to go beyond retailers.
She proposed that all non-domestic properties should be considered for the small business rates relief.