Northern Ireland house crash 'among world's worst'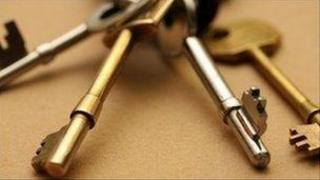 To get a sense of just how severe the house price crash has been in Northern Ireland it is illuminating to read the work of two US economists Carmen Reinhart and Kenneth Rogoff.
Their 2009 book, 'This Time is Different', is a huge empirical overview of financial crashes.
Their data on house price crashes shows that the average peak-to-trough decline is 35.5%.
Northern Ireland has far exceeded that with a decline that is now over 40% from 2007.
The respected Namawinelake blog has calculated that when the Northern Ireland fall is adjusted for inflation (in other words recognising that prices of other goods have risen since 2007) the decline is over 50%.
On Reinhart and Rogoff's figures this would put Northen Ireland among the most severe house price crashes in history alongside Finland, Colombia, the Philippines and Hong Kong where values declined by between 50 to 60%.
Some sub-national markets have also probably suffered comparable falls.
The other important figure which the two economists have come up with can only spell more gloom for Northern Ireland house owners.
They found that the duration of house price declines has "been quite long lived, averaging roughly six years".
Even when Japan is excluded - it suffered 17 consecutive years of price falls - the average still comes out at more than five years.
So far prices here only been falling for four years suggesting that there is at least another year of falling prices to come.