Zebra mussels Loughgall Country Park lake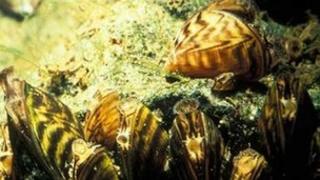 Zebra mussels have been found in a lake at Loughgall Country Park in County Armagh.
The damaging species, which is alien to Northern Ireland, had previously been found in 12 other lakes or waterways, most of them satellites of Lough Erne.
They can cause environmental damage to lakes as well as causing economic damage to freshwater fisheries.
The mussels can also block intake pipes, foul boat hulls and attach to any hard structure.
They out-compete the native mussels leading to their extinction.
They also filter the water very effectively, making it so clear that plant growth increases dramatically choking the waterway.
John Early, from the Northern Ireland Environment Agency, said: "Unfortunately zebra mussels have spread to a number of unconnected lakes since their first arrival in the Erne system in the mid 1990s.
"I would encourage all water users to clean all equipment thoroughly before moving to another site.
"The movement of zebra mussels from lake to lake is not only damaging to the local ecology but it is also a criminal offence."
Reports of all invasive species, including zebra mussels, can be made through the 'Alien Watch' section of the Invasive Species Ireland website.