Nelson Mandela's ties to Northern Ireland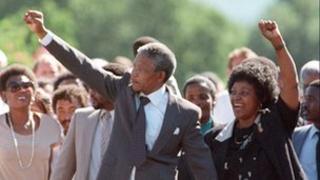 The closest Nelson Mandela came to visiting Belfast was the mural depicting his image on a gable wall along the Falls Road.
But his presence was felt in many ways as Northern Ireland moved from conflict to peace.
His long walk to freedom, from prison in 1990, inspired others to follow in his footsteps out of conflict.
Speaking about Mr Mandela's legacy, Sinn Féin's Martin McGuinness said Northern Ireland had "learned many lessons" from the former South African president.
He recalled an emotional day when he witnessed the "heartwarming" images of Mr Mandela's prison release on the news.
"It also challenged us to think about our own situation," the Sinn Féin MLA said.
"Because around that time the three big areas that were spoken about in the news media were the Palestinian situation, the South African situation, and the situation in the north of Ireland."
By the time Nelson Mandela was sworn into office as president in May 1994, the IRA was on the brink of an historic ceasefire.
While many were sceptical in those early days of the IRA ceasefire, Nelson Mandela invited the Sinn Féin leader Gerry Adams to South Africa a few months later.
His very public meeting with Mr Adams, still considered a political pariah in some quarters at the time, involved a very symbolic, very powerful handshake.
"We fully support the peace process," said Mr Mandela at the time. "And we will do everything in our power to support all the parties."
True to his word, Mr Mandela offered peace negotiators in Belfast some respite from the pressures of Castle Buildings in 1997 by hosting talks in Cape Town.
"Whatever help they want, I will place it before them," he declared.
Powerful personality
But he was careful not to make comparisons between Northern Ireland and South Africa, nor did he tell them what to do.
This, coupled with his attitude to reconciliation in South Africa, helped win over unionists who were suspicious of what they regarded as his terrorist past and his links with Sinn Féin.
MP Jeffrey Donaldson, a unionist delegate to the talks, recalled a wise, charismatic politician.
"He said something I thought that was quite profound and that was that you don't make peace with your friends, you make peace with your enemies.
"I think the time that he spent with us and the experience he shared had quite an impact on all of the parties."
Lord Trimble, former Ulster Unionist leader, recalled a powerful personality.
"He was relaxed and one had the impression of a fully rounded personality that was quite at ease," he said.
"He also had a very good sense of humour which fits in with that persona, and obviously there was a very keen intelligence there as well.
"And he was fully aware of the contribution he had made and the example he had given to others," Lord Trimble added.
But he did give a view when the parties struck the Good Friday Agreement in 1998.
Speaking from South Africa, Nelson Mandela effectively backed the yes campaign in the referendum by congratulating the British and Irish prime ministers for their "beautiful initiative".
Mandela Hall
While he did not visit Northern Ireland, Nelson Mandela made several trips to Ireland, including one to Dublin in 2000 when he met President Mary McAleese and accepted an honorary doctorate from Trinity College.
He was clearly grateful for the part the Irish had played in fighting apartheid, not least the strike action by Dunne's workers in the 1980s when they refused to handle South African goods.
Queen's University Belfast also honoured Nelson Mandela with an honorary doctorate in 2008 but he sent his regrets that he was unable to attend in person.
He did however send a message of thanks to the students at Queen's who had opposed apartheid and had named their student's union in his honour in 1986.
The student's union president at the time, Carmel Ferguson, recalled most students had supported the move.
"Some people would have had their doubts about Mandela. They would have seen him as a terrorist and wouldn't have thought any hall should be named after him.
"But for most people he was seen as a very powerful figure, great inspiration, someone who led his people and tried to bring about as much as possible a peaceful resolution."
The former SDLP leader Mark Durkan paid tribute to the late South African leader, describing Nelson Mandela as not just a friend to Northern Ireland, but a friend to the world.