Young hardest hit as unemployment rises again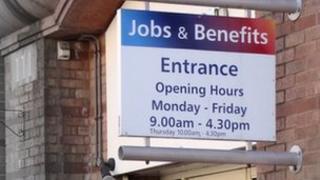 The number of people unemployed in Northern Ireland has increased once again.
Another 100 people joined the dole queue in October, taking the number of people claiming unemployment benefit up to 60,700.
Young people continue to be the hardest hit with almost one in five 18 to 24-year-olds in Northern Ireland unable to find work.
Northern Ireland's monthly increase was similar to the rise across the UK.
In the UK as a whole, youth unemployment has reached a record high of 1.02m.
The increase of 2,500 claiming benefits in Northern Ireland over the past year is the lowest among the 12 UK regions.
It means that the percentage of the Northern Ireland workforce currently unemployed remains at 7.3%, though it is as high as 19.1% among young people.
The Office for National Statistics (ONS) said the national unemployment rate had increased to 8.3%.
While the number of people actually signing on the dole in NI has increased, the overall unemployment rate has dropped slightly.
The unemployment rate for the period July-September was estimated at 7.3%, unchanged over the quarter, but up 0.3 percentage points over the year.
The number of unemployed persons was estimated at 63,000, down 1,000 over the quarter, but up 4,000 over the year.
That is because the rate concerns the Labour Force Survey which takes a representative sample by asking households about their status.
The survey is used to give a comparative rate across the European Union, because methods of claiming benefits differ between nations.
Need
Enterprise Minister Arlene Foster stressed that the figures in Northern Ireland are some of the best in the UK and that much work is being done to improve the job market.
"The executive's Programme for Government and Economic Strategy will set the direction for economic progress over the next few years," she said.
"However, there is also an immediate need to maximise employment opportunities for those currently out of work across as wide a range of sectors as possible.
"Through the Jobs Fund some 400 jobs have already been announced and projects intending to create a further 1,300 jobs have been approved, providing welcome opportunities for employment. "
Meanwhile, new research has shown that West Belfast and Foyle rank at numbers three and four in a league table of UK constituencies worst affected by unemployment.
Only two other areas, both in Birmingham, were considered worse off.
The House of Commons study looked at all 650 parliamentary constituencies.