West Belfast and Foyle among worst constituencies in UK for unemployment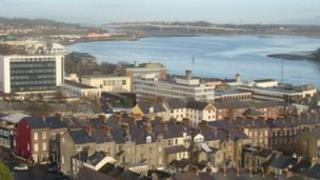 West Belfast and Foyle in Northern Ireland rank at numbers three and four in a league table of UK constituencies worst affected by unemployment, according to new research.
Only two other areas, both in Birmingham, were considered worse off.
The House of Commons study looked at all 650 parliamentary constituencies and ranked them.
The UK's official unemployment figures are due to be released later on Wednesday.
According to the monthly jobless statistics in October, 60,900 people were signing on the dole in Northern Ireland.
The report from the House of Commons Library examined the number claiming benefits as a proportion of the economically active population.
The researchers said the figures were more a measure of deprivation than joblessness in West Belfast and Foyle because they did not reflect people's ability to work outside these two areas.
Claire Ferris from the Work West Enterprise Agency said: "We are clearly very concerned and have been airing our concerns over a number of years, possibly decades, in relation to investment in west Belfast.
"We have historically always been unfortunately towards the top of the table in terms of deprivation and unemployment."
Ms Ferris said some interventions were being planned for the area.
"There are clear issues. There are organisations and infrastructures in place to try and address those problems and they are doing sterling work.
"They have had great results in terms of intervention and assisting up to 1,000 people access jobs.
"But we need to act sharply and quickly to bridge the gap and ensure our long-term unemployed are able to avail of some of the higher level jobs."
Ms Ferris said it was important to ensure that people in west Belfast had the appropriate skills for the industries of the future.