More Northern Ireland unions vote for 30 November strike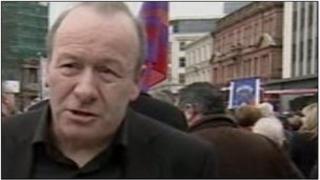 Members of the Unite union in two sectors that make up Northern Ireland public services have voted for strike action on 30 November.
The strike is over pensions. The votes were taken by workers in the NHS and local government sectors.
GMB union members working in local government, the NHS and the civil service across the UK have also voted to strike.
Two more teaching unions in Northern Ireland also did so on Tuesday.
The National Association of Head Teachers and the Irish National Teachers Organisation cited pension concerns and education budget cuts.
Senior members of the Irish Congress of Trade Unions (ICTU) met in Belfast earlier to discuss strike action.
ICTU president Eugene McGlone said there was widespread support for strike action.
"All the unions that have balloted thus far have had very positive results and indicated that they are taking industrial action," he said.
"They have given the 'yes' vote for industrial action, from senior civil servants all the way down the line. There will be a massive reaction on the 30th."
The National Association of Head Teachers (NAHT) said more than half its members voted and almost 67% backed a strike.
The Irish National Teachers Organisation (INTO) said 88% of those who voted backed strike action.
It is the first time in its history that the NAHT, has voted to strike.
It has 800 members in Northern Ireland - principals and vice-principals.
'Strong vote'
The NAHT said concern about changes to principals' and vice-principals' pension schemes and worries about cuts to the education budget had led to a strong vote for a strike.
The INTO announced its ballot result on Tuesday.
Gerry Murphy, northern secretary, INTO said: "This is a very significant result and it is essential that those individuals charged with the management of teachers' pensions recognise the significant anger that exists amongst the educational community."
However, the Ulster Teachers Union (UTU) is not taking strike action because its constitution requires a two-thirds vote in favour, but just over half its members voted to go on strike.
Avril Hall-Callaghan, general secretary of UTU said: "While the UTU rules and constitution do not permit us to go on strike unless two thirds support such action, nevertheless the strength of feeling has clearly been exhibited."
She said the UTU's central executive committee would be holding a special meeting on Monday to discuss a campaign of action.
"We will be advising our members and we will be closely co-ordinating this action with our colleagues in INTO and the other teaching unions," she added.