Prison Service emblem's debate nothing new in Northern Ireland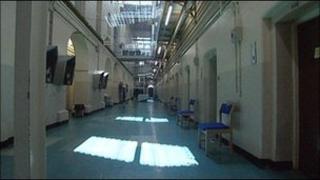 There's a sense of déjà vu about the debate over potential changes to the British symbols and emblems of the Northern Ireland Prison Service.
It is a decade since the Royal Ulster Constabulary (RUC) became the Police Service of Northern Ireland (PSNI), with a new uniform and a new badge.
Two years before the change, the then Ulster Unionist leader David Trimble described the Patten report which set the parameters for police reform as a "flawed and shoddy" piece of work.
But this was in the days when the justice system remained the responsibility of direct rule ministers appointed by London.
So whilst unionists fulminated about the loss of the police force's "Royal" title, they were powerless to stop the move.
The proposed changes to the prison service have sometimes been referred to as "Patten for prisons", as the programme of redundancies and pay-offs mirrors what happened with the RUC.
But until the TUV leader Jim Allister got to his feet in the Stormont chamber on Monday night the emotive topic of the prison service badge and whether Her Majesty's Prisons would remain "Her Majesty's" had not received much attention.
Threat
David Ford's initial response - that such changes must be considered and were operational matters for the Prison Service - provoked an angry response from unionists.
Then Peter Robinson pushed the Stormont equivalent of the nuclear button on Tuesday by threatening to resign and force an election.
Under changes brought in four years ago, that election could be triggered as soon as seven days after the first minister's resignation.
However the DUP is calculating that they will not be printing fresh election posters anytime soon.
Instead they assume David Ford will back off - indeed his later statement clarifies that there are no proposals on his desk and urges all politicians to work together on prison reform.
Under the compromise negotiated at Hillsborough in February 2010, Mr Ford's tenure only lasts until May next year.
If he wants to continue in office he will have to secure both unionist and nationalist support.
Whilst there have been far-reaching changes within Northern Ireland's police and judicial systems, this row shows that emblems and symbols associated with national identity remain extremely sensitive topics on which it is hard for Stormont's politicians to achieve a consensus.