Derry man faces court over bonfire hammer attack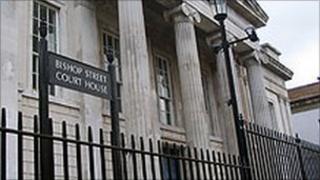 A man was detained by police in Birmingham on Sunday when a police computer check revealed he was wanted for attempted murder in Londonderry.
Connor Logue, 20, originally from Newbuildings, was arrested at his home in Birmingham after an alleged domestic incident involving his partner.
On Tuesday, he appeared at Londonderry Magistrates Court.
He was charged with attempting to murder a man during a 12 August bonfire last year in the Irish Street estate.
A detective constable told District Judge Barney McElholm that the victim sustained serious crushing injuries to his head and hands when he was attacked by three masked men armed with a hammer, a hatchet and a golf club.
He said one of the alleged attackers was still at large.
Mr Logue denied the attempted murder charge and also denied possessing a hammer and assaulting another man on the same night.
He was released on bail on the condition that he reside at his Birmingham home and reports to police there three times a week.
He has also been electronically tagged and banned from entering Northern Ireland except for court appearances.