Boil notice lifted for 962 homes in Ballymoney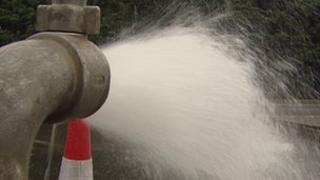 NI Water and the Public Health Agency have lifted the boil notice for a further 962 properties in the Ballymoney area.
About 381 customers in the Finvoy area, however, are still required to boil the water before use. The notice for them is likely to remain for a few days.
About 3,000 households were originally affected by the water problems which started last week.
That figure was reduced to about 1,300 on Monday.
Northern Ireland Water's Head of quality and compliance, Dymphna Gallagher, said: "Recent test results have enabled us to lift the notice in the Ballymoney West area further to Ballymoney Town yesterday.
"Although there continues to be some low level sample failures in the Finvoy area.
"NI Water is working closely with the Public Health Agency and erring on the side of caution.
"We are continuing to ask customers in the Finvoy area to boil water before use, until we are absolutely sure that water quality has returned to normal levels."
The problem started after soil got into the distribution system during work to replace pipes.
NI Water has provided a list of postcodes affected by the problems.