Two in court after bodies found in River Bandon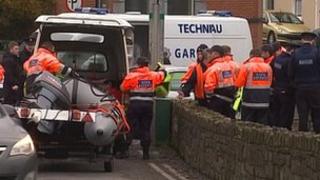 Two people are due to appear in court over the murder of a man whose body was found in a river in County Cork on Sunday.
The man and woman will appear at Bandon District Court later on Tuesday in connection with the death of Jonathan Dukes, whose remains were recovered from the River Bandon.
A post mortem examination revealed the 27-year-old had died violently.
On Tuesday, a second body was recovered from the river.
It has not yet been identified, according to RTE.
Mr Dukes had been living at a flat complex called Bridge House near the river.
The second body is thought to be that of a man who had also been living there.
It is understood an altercation involving Mr Dukes and a number of other people took place in the building at the weekend.
Up to 30 gardai (Irish police) are now working on the investigation.