Four recession hit hotels up for sale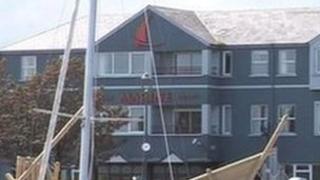 Four Northern Ireland hotels which have closed as a result of the economic downturn are being offered for sale.
Three of the hotels are in County Antrim - the Coast Road in Carrickfergus, the Highways in Larne and the Marine in Ballycastle.
The fourth is the Fort Lodge Hotel in Enniskillen.
Both the Marine and the Highways were connected to property development companies which collapsed with huge debts.
The hospitality sector as a whole has come under pressure due to a squeeze on consumer spending.
The Marine and the Highways each have an asking price of £800,000.
The Marine was owned by McAlister Investments, a firm controlled by the now bankrupt developer Mervyn McAlister.
The hotel was placed into receivership by Northern Bank in May but had been closed for some time before that.
Northern Bank had loaned the business around £1.3m so would lose £591,000, even if the asking price is achieved.
The Highways was ultimately controlled by the Banbridge-based Network Trading Group.
The group was placed into administration in October 2010, owing Bank of Scotland (Ireland) £43.5m.
The administrators' report warned the bank was likely to get back less than £8m from selling the group's properties.
The Coast Road Hotel closed earlier this year when the company which owned it was wound up over an unpaid tax bill.
All four premises are being sold by the Osborne King property agents.