MOT tests in Northern Ireland to have 22 new checks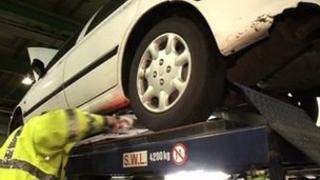 Changes to MOT tests in Northern Ireland could be introduced as early as next year.
Twenty-two extra checks on cars would be carried out under the new rules.
They will test things like power-steering indicators, tyre pressure monitoring systems, and electrical sockets for trailers.
Environment Minister Alex Attwood said the MOT test in Northern Ireland had seen few changes since its introduction in 1975.
He said vehicle technology had advanced significantly in recent years.
"Modern vehicles incorporate many more electrical safety systems and the European Commission has decided that these systems should now be included in the MOT test," Mr Attwood said.
"The changes are being driven by the EU and are set out in European legislation which means the testing of these new items must proceed."
To prepare motorists and garages for the introduction of the changes, it is planned that the new test will be carried out on an advisory basis from 1 February to 30 April 2012.
If any of the new requirements are found to be defective, the customers will be advised of the issues but the vehicle will not be failed.
The changes to the test will become fully effective on 1 May 2012. The proposals have been put out for consultation.
Extra cost
Bernard McClure from the Driver Vehicle Agency said there were no plans to increase the cost of the test - but accepted it might cost more to prepare the vehicle.
"I wouldn't dispute that there may be some cost increase for motorists, but the essential issue here is road safety," he said.
However, Keith Peat from the Association of British Drivers said the plan would put extra strain on the majority of drivers in Northern Ireland with vehicles more than four years old.
"On this list I've counted at least eight items that are as old as the Giant's Causeway. We've managed quite well without testing them up to now," he said.
"So the question is why now?"