Boil notice lifted at 1,903 homes in Ballymoney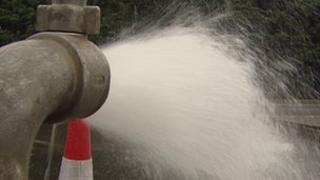 Northern Ireland Water and the Public Health Agency have lifted the boiling water notice for 1,903 customers in the Ballymoney town area.
However, about 1300 customers in the Bendooragh, Balnamore, Finvoy and the Bann Road areas are still required to boil water before use.
NI Water said the boil notice for these customers is likely to remain in place for a "further few days".
The firm introduced it last Tuesday.
This was after soil got into its distribution system during work to replace pipes.
A spokesman for NI Water said tests on Monday showed a "significantly improving picture".
Earlier, Northern Ireland Water's head of quality and compliance, Dymphna Gallagher, said: "The problem is taking longer than expected to resolve due mainly to the length and complexity of the local water distribution system; it extends to over 88 km (55 miles) in length and is mainly rural in nature.
"Northern Ireland Water is making every effort to restore the quality of water to the normal high standard as quickly as possible, through additional chlorine dosing and extensive flushing of the local water distribution system."
NI Water has apologised for the inconvenience caused to customers and will continue testing samples until the water quality returns to normal.
It has provided a list of postcodes affected by the problems.
It will notify customers by card as well as through news and other media outlets.