Dramatic rise in Northern Ireland lead thefts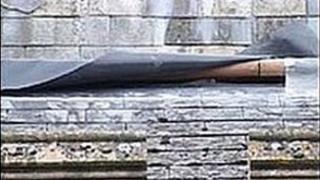 The number of thefts of lead in Northern Ireland has risen dramatically in the past year, according to official figures.
The 100% rise is being blamed on the high price of metals on the international market.
Hospital buildings in Downpatrick are among the latest targeted by metal thieves.
Lead and copper has been stripped off the roofs of the old Downe Hospital building and the Downshire hospital.
A surge in demand for metals in the fast growing economies of China and India has pushed up global prices.
This increase in their value is being blamed for the rising trend in metal theft in Northern Ireland - especially lead.
Generally, as the price of a commodity increases so too does its attractiveness to criminals.
Recent figures from the PSNI show that in the 12 months up until March this year there were 158 cases of lead theft.
That is more than double the amount in the previous year.