Massereene murders trial: 'Getaway car had key evidence'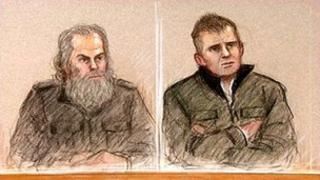 The trial of two men accused of murdering two soldiers in Antrim in March 2009 has been hearing more about the getaway car.
Colin Duffy and Brian Shivers deny murdering Sappers Patrick Azimkar, 21, from London and Mark Quinsey, 23, from Birmingham, at Massereene Army base.
The prosecution told the court the getaway car was found near Randalstown after the murders.
Although partially scorched, it contained vital evidence.
The car was first examined by Army bomb disposal experts.
One of them testified that a holdall with camouflage clothing, balaclavas and ammunition was discovered in the boot.
Two mobile phones were found in the central console and a coffee jar containing ammunition in the glove compartment.
'Lucky penny'
The court was told that the car had been bought in Ballymoney two weeks before the attack on Massereene barracks.
In a statement, the man who sold it said he asked the buyer, a man in his 20s, for £400 but then gave him back £20 as "a lucky penny".
Earlier on Monday, a forensic scientist told the court a gunman had reloaded during the attack which lasted 37 seconds.
He then fired at Sapper Azimkar and a pizza delivery man as they lay injured.
The ballistics expert also said that bullets found in a coffee jar discovered in the getaway car had at one time been chambered in the two guns used.
The court heard a medic had battled for 16 minutes to try to save Sapper Azimkar.
Mr Duffy, 43, from Lurgan and Magherafelt man Mr Shivers, 46, also deny six charges of attempted murder and one of possession of guns and explosives.
The trial continues.