Tributes are paid to Folks on the Hill star Sean Crummey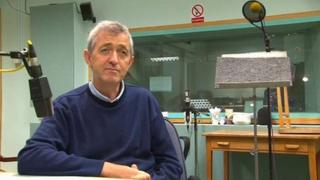 The greatest tribute to any satirist is surely when the people you have been poking fun at for the last 10 years are lining up to sing your praises.
That has been the case since Folks On The Hill star Sean Crummey passed away at the weekend, with politicians of all creeds paying their respects.
The 53-year-old impersonator displayed a cutting humour on the BBC Northern Ireland programme to match the sharpest suits at Stormont.
But as Folks Of the Hill producer Owen McFadden explained, his intention was never to do any lasting damage to his targets.
"Sean didn't use humour as a blunt instrument - his humour had a warmth about it," he said.
"He felt very much because of his gift of impressions that because he was actually able to be the characters he was making fun of he didn't have to be quite so blunt about the humour.
"He put these characters into situations which were sending them up and I think that's where the laughter was.
"He didn't like very acerbic comedy he found he could make the points he wanted in much more subtle ways."
This view is supported by BBC Radio 4 newsreader Kathy Clugston who provided the female voices on the hit show which has entertained audiences on radio and television since 2001.
Parallel world
She said the father-of three's great skill was "that he lampooned without doing a hatchet job on people".
"He would never have wanted people to feel personally hurt at what he did, but he poked fun at them in a way that revealed just the silliness that was going on," she added.
Mr McFadden hailed Mr Crummey's professionalism and said that he had only recently returned to the recording studio after being ill for the past year.
"He had got well enough again this autumn so that he could come back into the studio and record again which was a joy for all of us," he said.
"In fact our very last programme went out on Saturday morning.
"Sean came in about 10 days ago, he clearly wasn't very well but he was determined to see it through.
"As soon as he got into the studio he was his old self.
"I think one of the happiest places for Sean was studio three in Broadcasting House where all those characters came to life. It is a great loss."
He also said the BBC's politics department would often inquire how the former teacher was "ahead of the curve" when tracking the corridors of power in Northern Ireland.
"Sean wasn't that well connected at all," he added. "He just had a very good instinct for what was going on around him.
"He found himself very often doing impersonations of people who were three feet in front of him, because he kept being booked for these after dinner events.
"I think he created a parallel world for Stormont, which in many cases the personalities we have come to know of our politicians are actually personalities Sean invented."
Sinn Fein assembly member Gerry Kelly was one politician who thought he was living in a parallel world as he left Stormont on one occasion.
In this instance, Mr Crummey did not even have to move his lips, such was the impersonator's aura.
"I was coming out of Stormont and heard the radio on," Mr Kelly said.
"I turned the radio up and listened to it and it was only after a couple of minutes I realised it was an interview I had just done at Stormont before leaving.
"I had thought it was Sean Crummey, he had my voice down to a tee there is no question about that."