Fianna Fail's Eamon O Cuiv calls for Gerry McGeough release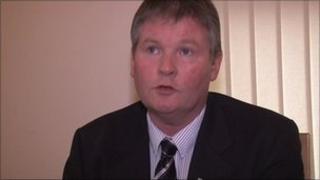 The deputy leader of Fianna Fail is calling for a republican inmate in Maghaberry Prison to be released on humanitarian grounds.
Earlier this year, Gerry McGeough was found guilty of attempting to murder DUP councillor and former part-time UDR member Sammy Brush in 1981.
Galway TD Eamon O Cuiv has visited the Fermanagh republican in prison.
However, the DUP's Maurice Morrow said if McGeough was feeling disadvantaged he only had himself to blame.
McGeough is to serve two years of a 22-year sentence for the attempted murder of Mr Brush.
"Gerry McGeough is totally committed to the peace process," Mr O Cuiv said.
"I always believed when the peace process happened that where there were outstanding issues that a line could be drawn under them - that was part of the process."
He added: "I understand in other cases similar to Mr McGeough's where there were so-called on the runs there were no custodial sentences served."
McGeough shot Mr Brush as the part-time soldier worked as a postman in Aughnacloy, County Tyrone.
Despite being injured, Mr Brush was able to return fire and injured McGeough.
Lord Morrow said Mr O Cuiv should be concerned about the victims of violence, not the perpetrators.
"I wonder did he think about visiting the victims of crime," he said.
"I've never heard a single word from Mr O Cuiv of condemnation or regret."
He pointed out that McGeough would only serve a fraction of his sentence.
"If anyone has been unfairly treated in this incident it has been Sammy Brush," he said.