Anglo Irish Bank to challenge Sean Quinn bankruptcy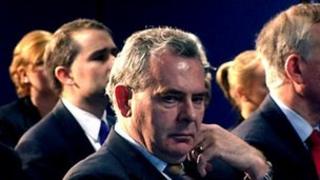 Dublin's Commercial Court has been told that Anglo Irish Bank is to apply to annul Sean Quinn's insolvency proceedings in Northern Ireland.
The banks will claim that the Northern Ireland courts do not have jurisdiction over Mr Quinn.
Mr Quinn was made bankrupt in the High Court in Belfast on Friday.
Anglo says the Fermanagh tycoon, once thought to be Ireland's richest man, owes the bank more than £2bn, although Mr Quinn disputes that figure.
He accepts that he owes around 194m euros to Anglo for property loans which he cannot repay.
Mr Quinn, 63, was stripped of control of his manufacturing and insurance business empire in April.
He said he brought the application for bankruptcy north of the border because he was born, reared and worked all his life in County Fermanagh.
But by declaring himself bankrupt in Northern Ireland it also means he only has to wait a year before going back into business - rather than 12 years in the Republic.
Irish Bank Resolution Corporation (IBRC) - the new name for Anglo Irish Bank - disputed Mr Quinn's claim that he is resident in Northern Ireland.