'No reason' A5 can't go ahead: McGuinness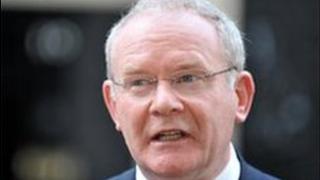 The deputy first minister has said he sees "no reason" why the A5 road between Londonderry and Aughnacloy cannot go ahead.
The Irish government announced last week that it would not be giving the £400m previously promised for the project and that £42m (50m euros) would be available instead.
Finance Minister Sammy Wilson said the future of the road looked uncertain.
But Martin McGuinness said the project was a "major priority".
He is due to meet with the Irish Prime Minister (taoiseach) Enda Kenny on Friday at a gathering of the North South Ministerial Council.
Mr McGuinness said he would be discussing the funding issue with Mr Kenny, but admitted plans for the road would need "re-profiling".
"The taoiseach has said he is still committed to the construction of the road," he added.
"Obviously they have financial difficulties and that has, I think, left people wondering whether or not the project will go ahead.
"What I want is an absolute commitment from the taoiseach that the balance of the £400m will be made available."
The £50m pledged by the Irish Republic's Transport Minister Leo Varadkar will be provided between 2015 and 2016.
Mr Varadkar said he expected work to take place in the future, but £400m was "an enormous commitment and difficult to honour given what we're facing".
The total cost of the 55-mile (88km) upgrade - which would create a key cross-border business route linking Dublin to the north west - was to be £850m.